Collaboration
The collaboration tools you need
Using the right online collaboration tools can make teams stronger and more productive, also it helps teams communicate more efficiently. They can look back on old discussions and work history, to help them learn from previous tasks. Collaboration tools can eliminate the back-and-forth nature of email communication. The term collaboration software has a variety of meanings. It is a broad category of apps and services. Enterprises have very different communication needs than small start-ups. Collaborating brings hundreds of people across many offices to a place in a single space. Some organisations choose to use online collaboration and communication tools instead of using email. For example, a small team may be highly focused on what's happening in the moment, whereas a large organisation may make it a priority to preserve past conversations so that new employees can quickly get familiar with what has happened to date.
Top features:
Project & Task management
To-do lists, notifications, and reminders
Assigning and delegating tasks
Reporting on work, sales performance, budgets, etc.
Invoice templates and automated monthly billing
Time tracking and billing
Scoro is the perfect remote employee management software, combining team collaboration tools with efficient project management and billing, making it easy to manage your entire company in one place.
Pricing
: Plus – £15 user/month, Premium – £23 user/month, Ultimate – £39 user/month.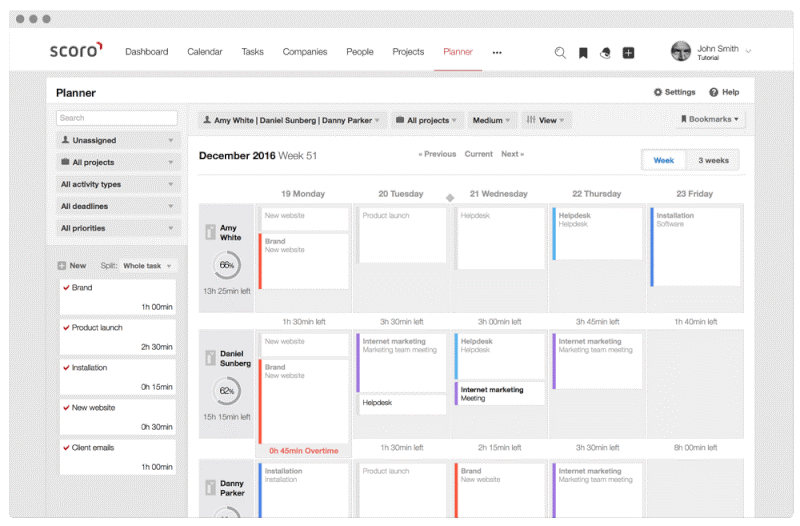 Top features:
Team communication and chat
Integrate with Google Drive, Box or Dropbox to share files
Set up reminders
Highlight words to be notified as they appear in conversations
Use @everyone tag to send a message to the entire team
Use Slackbots
In addition to popular chatting features, Slack has many shortcuts and hacks that help to increase the productivity levels of your team collaboration.
Pricing:
 Free Basics, Standard plan £5.25 user/month, Plus plan £9.75 user/month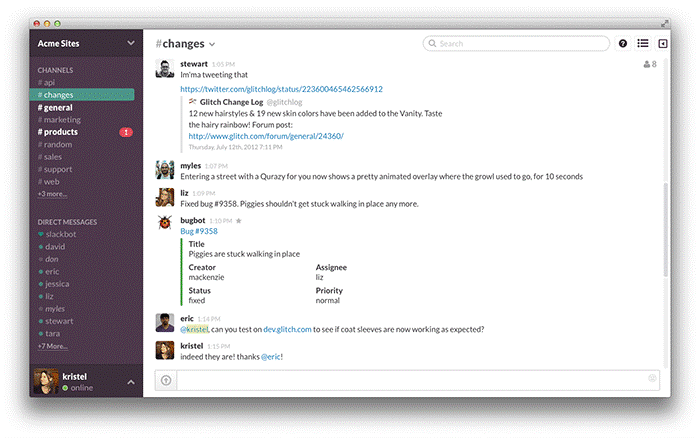 Top features:
Chatting with team members and partners
Email compatibility – non-users receive ordinary emails
Pin important messages to the side of each conversation
Sharing files and images
Integration with Google Hangouts
Fleep delivers a channel for seamless collaboration via Fleep itself, email, Google Hangouts, so you never need to leave the tool to get your messages across to other people.
Pricing:
 Free, Business €5 user/month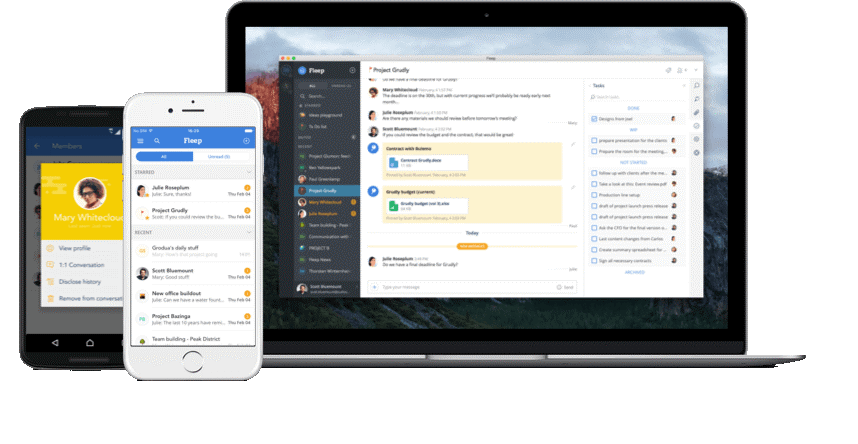 Top features:
To-do lists
Weekly planner
Taking notes + sharing files
Commenting on anything
Planning projects
Personal weekly checklist
Serves as a shared whiteboard
What's special about this tool:
 "Notion is like the LEGO set for collaboration software (or Minecraft, if you are from a younger generation). It lets you assemble workflows that work best for your team, as easy as using a text editor." – Ivan Zhao, Co-founder of Notion
Pricing:
 Free up to 5 users, Pro Plan $8 user/month
Pricing:
 £10 user/month
Pricing:
  Essential £45/month or Unlimited control $135/month
Pricing:
 Free, Solo – $5/month, Teams $7/month or Enterprise 50+ members.
Pricing:
 Free up to 8 people, Premium $12/month per room
Top features:
Task and idea management board
Organising lists by dates or priority
Commenting and collaboration
Creating multiple task boards
Attaching pictures and files
Trello lets you drag-and-drop tasks and ideas between different statuses, making daily task management fun and intuitive. It is a great project management tool for small teams with simple projects.
Pricing:
 Free, Business Class – $9.99, Enterprise – $20.83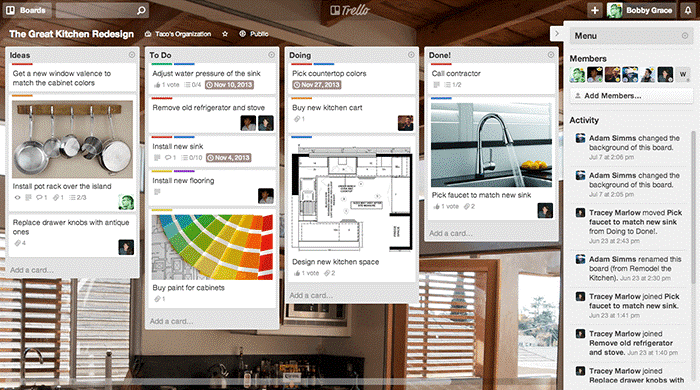 Top features:
Reporting on project performance
Separate dashboards for client collaboration
Message boards for discussing projects and ideas
Email and desktop notifications
Projects with multiple users and tasks
In-app team collaboration and commenting
Basecamp takes only 10 minutes to set up and is easy-to-use. It provides the minimal amount of features needed for efficient project management.
Pricing:
 Free for students and teachers, 50% off for non-profits & charities or $99/month for unlimited projects.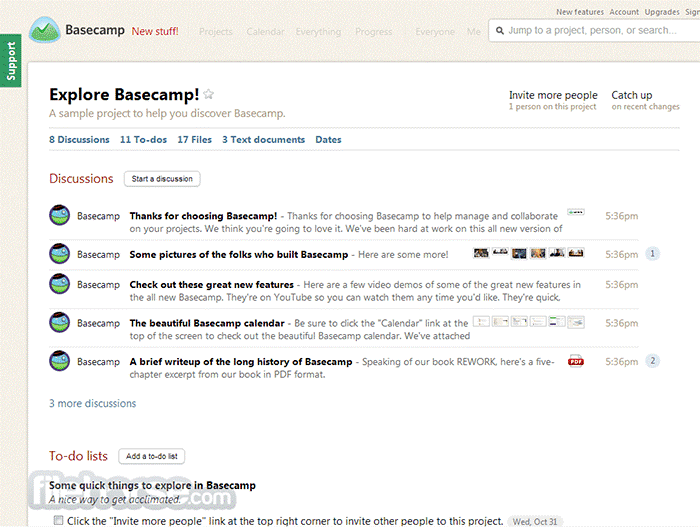 Top features:
Video chat
Messaging
Conference calls
Chat groups for various teams
Notifications based on mentions
Skype enables video calls with up to 250 people. If you work as a small team of fewer than 25 people, conducting video calls is even simpler (and free).
Pricing:
 Free (Up to 25 people on group audio calls), Skype for Business from €1.7 user/month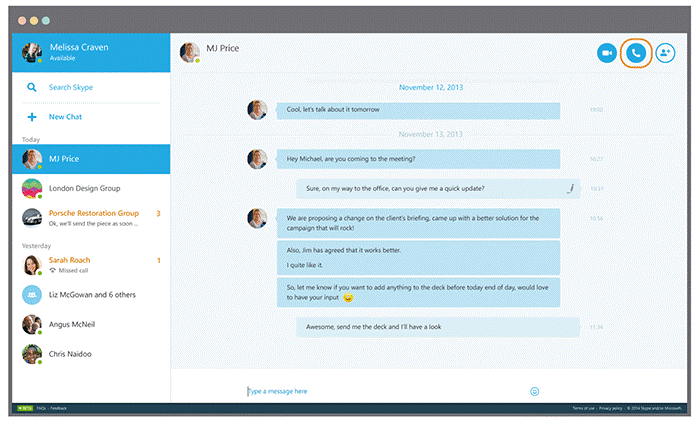 Top features:
Task scheduling and project planning
Planning on a visual interface
Setting individual availabilities
Simple reporting on work
While Float is a perfect tool for anyone who needs to keep track of the team's schedule. Individual availability tracking makes it easier to notice when someone's out of work and needs new tasks assigned to them.
Pricing:
Free up to 5 people, up to 10 people $49/month, up to 30 people $99/month, up to 100 people $249/month.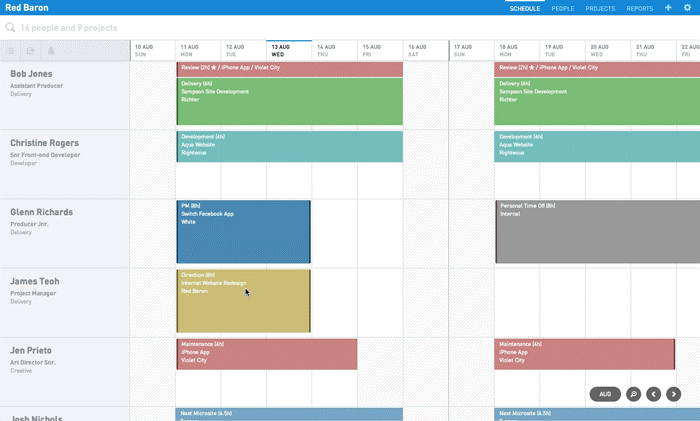 Pricing:
 Professional (up to 15 projects)l $29/month, Studio (up to 45 projects) $69/month, Agency (unlimited projects) $129/month, Agency Plus $199
Pricing:
 Classic plan $5 user/month ($35/m for 1st user), Premier plan (advanced project management) $10 user/month, In-House plan for creative teams $15 user/month
Pricing:
 Free up to 20 users (limited features), $5 user/month for Pro, $12 user/month for unlimited features
Pricing:
 Free up to 5 users, Professional plan 5, 10 or 15 users: $9.80/user/month, Business up to 200 users: $24.80/user/month, Marketers for unlimited users: $34.60/user/month.
Top features:
Unlimited projects and clients
Instant overview of your billable time and team progress
Professional reports delivered directly to customers or team managers
Real-time time entries and collaboration
Offline time tracking & mobile functionalities
Integration with your favourite productivity tools
Toggl is completely focused on time tracking, which means that they're really good at it.
Pricing:
 Enterprise plan: $49 user/month, Premium plan $18 user/month, Starter plan $9 user/month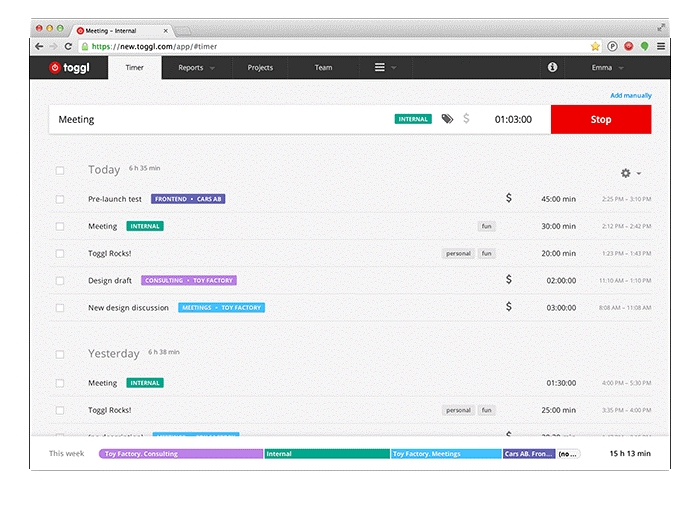 Top features:
Time tracking from any browser, computer, or mobile
Creating estimates and invoices based on the time worked
Real-time reports on time spent
Expense logging
Harvest is an excellent tool for teams thanks to its timesheet approval function that lets team managers view and approve team's time and expenses.
Pricing:
 Free plan, Solo plan (Unlimited Projects) $12 /month, Team plan (Unlimted people) $12 user/month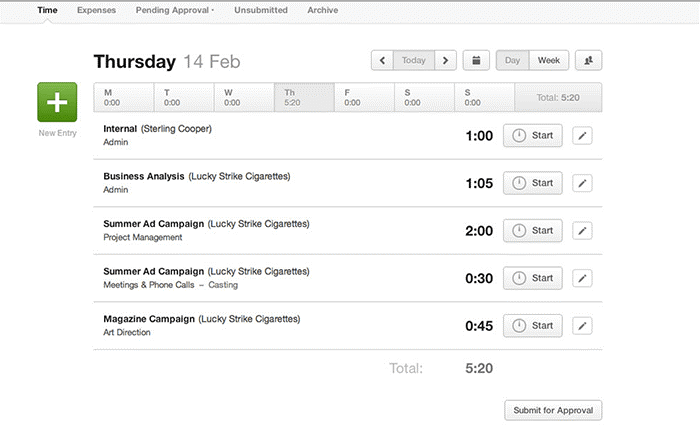 Top features:
Time tracking and billing for work
Automatically importing and categorising expenses from bank accounts and credit cards
Upload and share files
Track spending with expense reports
Reports on received payments and billing history
Keep tabs on project progress and get feedback from your team
FreshBooks is one of the leading cloud accounting systems for small businesses.
Pricing:
 Lite $15/month, Plus plan $25/month and Premium plan $50/month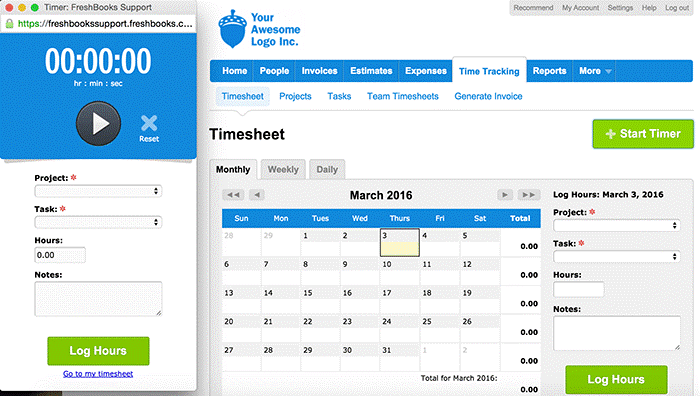 Top features:
Tracking the time spent on tasks and projects
Thorough work reports
Dashboard to see your team's performance
Billing customers for completed tasks
Integrated project accounting
With Paymo Plus, you can automate the time tracking completely. All you need to do is download the desktop app, set it up, and at the end of each day, categorise all your time entries.
Pricing:
 $14.95/user per month

Pricing:
 Team plan starts with 5 users $49/month, Organization plan starts with 25 users $199/month, Enterprise $499 per month.
Pricing:
 1 user – £15/month, 2-3 users £29/month, 4-10 users £60/month, 11-20 users £80/month, 21-50 users £120/month.
Pricing:
 Free, Basic plan $5/Month, Premium plan $9/ Month
Pricing:
 Professional plan $19.95 user/month, Enterprise plan $24.95 user/month. When the time comes to invest in some collaboration tools, you should get an all-in-one system, which might be a company intranet or work management platform. Make sure the system you buy, has chat and video calling included as it's important for your team.
Price Matters
A company or organisation's investment in collaboration tools doesn't necessarily require a huge upfront cost. There are plenty of collaboration systems that offer a free level of service. Free versions of collaboration tools, like most other software, typically have some limitations. The package might only support, for example, two projects, or it might have a file storage limit. Still, these free versions usually let you and your team test them out for a while to see how well they work for you before you commit to fully purchasing them.
Culture Is Key
One important point about all collaboration tools is that they must have a company culture behind them. Throwing a new tool at a bunch of people and telling them to use it instead of email doesn't normally work. To start using a collaboration tool successfully, all the key players on the team need to buy into it. It has to be part of a day to day routine. When this happens, you can expect to see a much greater sense of teamwork. Keep in mind that collaboration tools work best when people enjoy using them.