Marketing
How to use Christmas for your marketing needs
As we approach Christmas each year, everyone either loves it or hates it. However, in business, you have no choice to jump on the opportunity to put your business out there. Regardless of what your preferred marketing channel is, there are many types of Christmas marketing roads to go down. There is enough time to implement many of these ahead of this Christmas.
Christmas Customer Communication
Whether you write a blog, send out a catalogue or create a seasonal leaflet, always try and produce something to suit the occasion. Use Christmas as a guide to send out a range of promotional products. Video guides are also a big help and even if it is to show off a festive product or a guide on how to wrap up presents you can buy in your store.
Everyone loves a Social Competition
A lot of businesses find that social media gives them the best platform to increase customer engagement. Everyone can now interact with your company by a 'like, tweet, share and post' at the touch of a button. Social media is a great opportunity to find new customers. Popular competitions are:
Like this post and tag someone you're grateful for this Christmas
Send in your best Christmas story
Tag us in a picture of you and our product to be in with a chance of winning
 'Tis the season for giving – show us your act of goodwill this Christmas
Make sure the prize you pick is something that's related to both Christmas and your business.
Support a Local Cause
You can create awareness of your own brand at the same time as doing something good for charity. There are loads of different ways you can support charities, and it could be something you consider doing year-round, rather than just at Christmas. Let customers know that all proceeds made from a certain range of products go to charity, or even host a charity event like a coffee morning or brunch and encourage customers to donate with you. Just make sure you send invites beforehand! When it comes to picking which charity to support, choose one with the same values as your business and of your customers. That way, you know you'll be able to raise the optimum amount of money for the cause and interest in your charitable action.
Direct Mail Campaign
Emotion plays a big part in many Christmas marketing campaigns (just like John Lewis and Coca-Cola).  Nostalgia is a fantastic emotion to try and target, especially if you're marketing towards millennials. The ultimate #ThrowbackThursday, old school greetings cards are great for getting your brand noticed. Personalising your Christmas marketing materials is very important, consumers influence what they purchase. Personalise your Christmas marketing cards with a handwritten note. Try to include a discount code to incentivise them even further.
 Always Have Gift Cards Available
What's the all-rounder Christmas gift you can buy for anyone? A gift card for their favourite shop. Gift cards and vouchers amounted to approximately £5.7 billion in the UK in 2016. Put a unique code on your gift card design, customers can choose to use these cards online as well as instore. Gift cards work so well because, essentially, it's a recommendation. By giving someone a gift card for a store, you are endorsing that business. 70% of millennials are influenced by the recommendations of their peers in buying decisions. Having gift cards available to pick up at the checkout is a must for boosting sales at Christmas.
 Decorate Your Shop
For a customer, there's nothing better than walking into your favourite store and finding that it's been transformed into a winter wonderland (with Christmas jingles playing) even if everyone who works there will or already be sick of looking at Christmas.
Check out our online homepage banner 
Using red and green might be a little scary, depending on your branding and general style of shop, but they aren't the only colours customers associate with Christmas – why not add some sparkle with gold, silver and even a rich purple. Put posters up in your shop window display is a great way of driving customers into your shop. Tinsel, lights and baubles are extremely versatile and allow you the opportunity to get creative. Lights make for great window displays – hang them around posters and signs to make special offers really stand out. The aim is to grab attention with festive delights.
Experiential Marketing
Sometimes known as engagement or event marketing, experiential marketing is creating a positive and memorable experience of your brand for customers, therefore strengthening their relationship to your business. You don't have to be a multi-million-pound company to create a great brand experience for Christmas. Some companies offer a taste testing session or a whole range of workshops depending on what a business specialises in
Winter gift wrapped
A gift-wrapping service is very popular these days. People don't mind spending £2 or £3 for it to come already wrapped. Anything that makes the act of buying and wrapping gifts easier for customers will do wonders for customer relationships and brand positivity.
Christmas Discounts
Since it's the season for giving, why not give your customers a few holiday-themed discounts to encourage spending in your store/online shop. The easiest way to theme your offers is to look at Christmas traditions and play on some of these. A popular one is 12 deals of Christmas style offers, you can get creative with other holiday traditions. Email marketing campaign where customers click a present or cracker and it redirects your customers to a landing page offering them a discount or free next day delivery.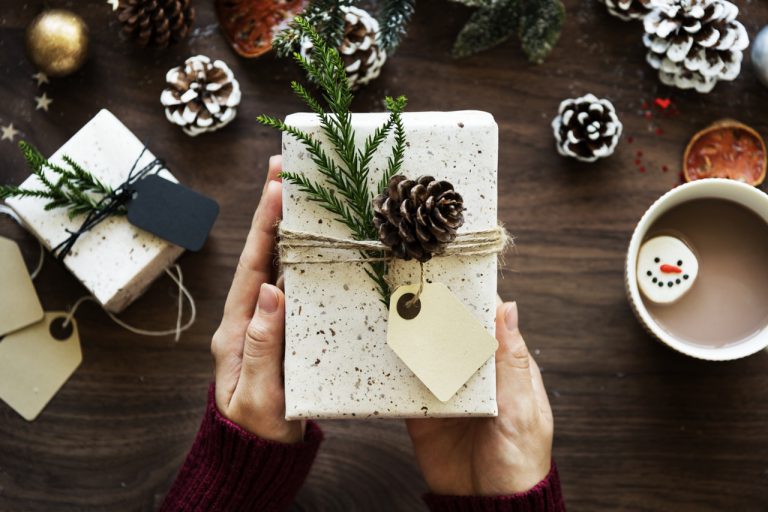 The key to creating a fantastic Christmas marketing strategy is finding something that works for your business. You know your customers and what they like and don't like, better than anyone. It's always good to take inspiration from what other people are doing if you can create a spin that's 100% your brand.